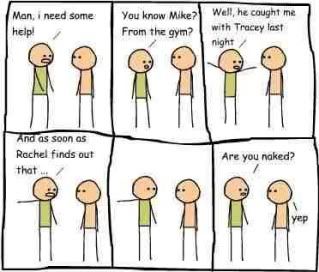 I read a very interesting article in Esquire last night called
"Why Men Cheat"
and it was written from an honest male perspective. Even though it was his personal explanation for men's infidelity, it seemed to ring true for a lot of males I've come across in life. He basically gave any failed cheater a blueprint for the "proper" way to sneak around. In a nut shell, take care of home and never explore the options you've created for yourself in the state in which you live.
If you want to know more about his opinion, click the link above. If you want to know more about why I think men cheat, keep reading.
I have never subscribed to the belief that men cheat because women let them. The truth is, men can cheat and NEVER tell anyone they have a significant other. No one can have control of a situation if they think they're the only one. However, occasions where only the man knows what's going on is an entirely different level of fuckery. For all intents and purposes, let's assume that my explanation applies to men who cheat with women who know they are involved with someone else.
There is no point in pursuing a woman who isn't ready and willing to sleep with you. It requires too much time and emotional gaming when they have a wife or girlfriend already that they put mental energy into. Cheating usually feeds each individuals carnal, lust filled, base instincts. There really shouldn't be time for someone to get attached. It continues because both parties are willing. The minute someone suggests more, a problem will usually arise.
I have always felt that cheaters exert energy in their "real" relationships but move fluidly with those they cheat with. It's a rush you don't get anymore with your girlfriend/wife. There is no more chase; you've got her and it isn't that you don't "appreciate" her, you just know she isn't going anywhere because you've given her the life she's always wanted. As long as she's happy, you're happy. It doesn't matter that some of your contentment with life is tied up in a Baskin Robbins smorgasbord of vagina.
Because I say the above, never mistake that for me condoning cheating. I've been a cheater, cheated on, and cheated with. You have to retain a certain kind of thinking to constantly suck sexual energy from someone and pretend they have no emotions that could ever be directed towards you, other then wanting to screw your brains out. You don't realize how much energy you're exerting to actually be in retard "relationships" like this. Locking emotions away in an effort to continue selfishly "sleeping" with someone to suit your own purposes can become draining. Which is why I haven't participated in that kind of behavior in years. In the article with the male perspective he stated that saying "I love you" was more or less against the rules. Introducing emotion into something that you have convinced yourself is nothing but an orgasm on call creates problems. When men cheat, they don't want to ever feel like they are in a situation similar to what they go home to. It isn't fun anymore and it is no longer about mind blowing sex.
So it's on to the next one...
I know there are tons of women who feel that if you love them, you should NEVER cheat but I don't think men who are cheaters think of it like that. There is a part of them that wants to do the "normal" thing and have that companion by their side until death. However that other part that says you were created to procreate constantly eats at them when they are in a monogamous relationship. It isn't even that they want children running all over the place; it's the act itself that they can't seem to separate from their NEED pile and place into their WANT basket.
It is my opinion that men cheat because they never mastered the art of self-control over their original purpose for being.
In a way, generally speaking, I think women have it better off. Typically speaking, we aren't led by our loins; the cool part is we were created for the same reason as them. Emotionally, women tend to be able to deal with a lot more then men and since the general idea of cheating is purely sexual actions, it's easier for men to do it then women. Women will more readily leave their husband for another man then a man would leave his woman for another lady he's "only" sleeping with. I think it's largely due to the emotional connection she no longer has with her significant other; for men, I think they don't leave because they don't allow some romps in the hay with another woman to break their emotional hold they have with another woman. I do understand there are exceptions to the rule so this isn't to say there are NO MEN who don't operate as women when it comes to cheating...or vice versa.
I guess when it all comes down to it we can just blame it on men being from Mars and women being from Venus...