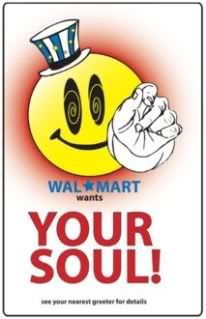 Walmart...the one place I HATE but continue to insanely go there hoping one day things will change. I promise you, if Target EVER shaves their prices as low as Walmart is willing to go, I will drive 15 miles away from my home to shop at the Super Target. It seems Walmart chooses to hire MAINLY people who have no respect for authority, no manners, and just lacking in customer service across the board. Every once in a while you'll get some older woman or man they've hired so as not to be accused of ageism; those employees are usually the epitome of kindness. However, the young retards and individuals in my peer group they hire? They can all go to hell if they are in the group who could give a crap about their job and feel the need to show it to anyone who steps foot in their store.
Along with the majority of Walmart's employees being Grade A assholes, the patrons aren't much better. I have seen and dealt with fellow shoppers that need to be locked up in the loony bin and/or need to just leave me the hell alone so I can finish my dreaded shopping experience and get back to my sanctuary of peace and quiet.
As much as I loathe that place, I am in there, on average, at least 2 times a week. There is a Publix closer to my house and a Kroger right next to the Walmart. You tell me which establishment you would frequent if you needed to do your grocery shopping and the items you usually buy are a good dollar to three dollars cheaper at Walmart. Being an unemployed mom, I have to go where I can stretch my dollar the farthest. Low and behold, it always turns out to be damn Walmart.
I went in there yesterday JUST to get a tape measure so I can put up some curtains in my living room. As I looked around for an employee to ask what aisle I could find a tape measure in, it seemed as though every employee was trying not to make eye contact and when I did walk up to someone, they scooted off so quickly you'd have sworn they didn't even work there. Really? All of this for a damn tape measure??? Then I saw that nice little older person; he welcomed me like he was my grandfather, making me feel all warm inside and my hatred of all things Walmart quickly dissipated. However, I was none too happy to hear what he had to say:
"We don't sell that here anymore. We don't sell anything with which you could repair clothing. I'm sorry. It makes no sense to me either, dear. It's Walmart and they're supposed to have EVERYTHING but certain Walmart's don't. We haven't carried that kind of stuff in this store since last year, dear."
That shut me up and I trotted off to the pain reliever aisle because I'm getting old and my knees feel like someone is trying to bust my knee caps open with pliers. Seriously, I had a knee injury when I was 12 and it hasn't been right since. Whenever it is cold, I'm in a living hell and sometimes feel like I'm walking like Frankenstein. I'm in the aisle trying to decide on Tiger Balm, Icy Hot, Ben Gay, or some generic shat that's cheap and I feel someone walk up on me like they know me.
It's some random man with a bunch of socks in his hands. I quickly survey his exterior to see what he's all about. I see he's employed by the local transit system (MARTA) so I figure he's "safe". I give that programmed smile for all strangers and go back to what I'm doing. I'm not making any eye contact so I don't know why he goes into this spill:
"Hey, I saw you over there talking to that man and I just had to come say something to you. I thought you were young cause of that side pony tail you got there but then I saw all that thickness and I just had to speak. You sho is looking good today."
Me: Ummm, ok. Thanks? This side pony? Yeah, when you're rushing out the house, this is what you get.
"Yeah so I'm (some name I don't remember). What's your name?"
Me: Synitta
"Awww yeah, I bet you get tired of telling people how to spell your name, huh? Like, that's a "S", not a "C" muthatfucka; like, "Sy" not "Ci" dumbass; am I right? am I right?"
Me: *still looking at the Tiger Balm wishing he'd beat it* yeah, you're right
"Yeah so I bet you got a man, huh? All that goodness. I know you not single. You single?"
Me: No. I have a significant other. *another generic smile*
"Awww, well I won't be disrespectful and ask for your number even though you probably wasn't going to give it to me anyway, huh?"
Me: Right again *still looking at the Tiger Balm box*
"Yeah, well I'll let you get back to shopping for cold medicine. You should do like me, just cough on muthafuckas like yeah, take that, I'm sick, and? Hell, white people do it to us all the time. Give them a taste of their own medicine!"
Me: I'm not buying cold medicine. I'm buying pain reliever for my knee *glaring and wishing he would drop dead* Coughing on other people is disgusting so no thanks.
"Yeah, I tell my niece to do that shit and she does"
Me: Ok *still looking at Tiger Balm*
"Well, I'ma go buy these socks. You still looking good. Take care"
Me: Thanks. Bye
This is why I send Babybottoms dad to Walmart. Those ratchet looking women in there love him to death so it usually takes him a shorter amount of time. He has been known to get the young girls to open a register JUST to check him out and then close it back up like they got better things to do at their job than work. However, yesterday was a run in/run out Walmart trip so I was subjected to foolishness.
When I go to stand in the self-checkout some middle aged lady comes and stands so close I can smell her carrot smelling breath. I turn around and do the generic smile then move up some. She moves up too. So I turn around and ask her to not stand so close. She looked at me like I had taken her groceries and thrown them on the ground. Then she starts mumbling to herself about how she needs to "get out the store, get out the store, get out the store, RIGHT NOW". I can't say that I wasn't thinking the same thing but I also wasn't chanting it in line like some crazy person needing a strait jacket. I turn around to see her rocking back and forth on her heels. See why I HATE coming in this damn store???
This morning Babybottoms dad asked me to call the Vision Center and as much as I didn't want to, I did it anyway. This is what I had to deal with:
*ring, ring*
Fuckery Town EE aka Walmart EE: Thank you for calling Walmart Vision Center how may I help you?
Me: I had a question about temple length on glasses. If I have a 140 *interrupted by Fuckery Town EE*
Fuckery Town EE: We don't sell temples separately from the glasses. We don't do that here.
Me: What? That isn't even what I was asking you. I didn't ask that. Where did you get that from? Let me finish my question please before you give me an answer. Please?
Fuckery Town EE: Ok. *with attitude, of course*
Me: Thank you. I needed to know if my temple length is 140 but I want some glasses with a temple length of 135, is there much of a difference?
Fuckery Town EE: No
Me: Thank you.
Seriously, are people that eager to NOT do their job that they will tell you ANYTHING to get you off the phone so they can go back to doing nothing? Apparently so. I wasn't comfortable with her answer because she could have just been telling me something because she was pissed. So I called another Walmart and thank goodness, she had actually given me the correct information.
I promise you something like this happens EVERY TIME I step foot in a Walmart...and I still keep going. I would call them crazy but then I'd be throwing stones...