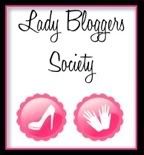 I came to know about
Lady Bloggers Society
because of
Stepfanie Bishop
. I started reading
her blog
before I got pregnant because I loved how she wrote about the simple things her and her daughter, Truly, would do. In my mind, I thought I would transform my blog (after finding out I was pregnant) and write more about my daughter. However, my brain thinks about far too much stuff to devote my blog to one particular subject so I stuck with what I usually write about...life and everything that comes with it.
I started following
Stepfanie on Twitter
and she tweeted about joining the
Lady Bloggers Society
. I figured it would be a good idea because I'm always looking for new blogs to read/follow. The icing on the cake to reading other people's blogs is that they sometimes feel obligated to read yours. This was a win-win situation for me!
I've been experiencing writer's block lately so I've been doing far more reading than writing. So when I went to the
Lady Bloggers Society blog
, imagine my surprise when the latest posting was entitled
Getting Over Bloggers Block
! After reading the post, I felt like I could get back to my one post a day routine. It's just kind of difficult to sit down and let all my thoughts pour out onto the computer screen when I have a 4 month old screaming in my ear for attention. I never knew I needed to concentrate to write a blog but there you have it. My child has destroyed my super human ability to ignore noises outside of my brain.
Hopefully, by joining the
Lady Bloggers Society
, I can keep on track with my blogging and other writing. We shall see!
P.S. - I believe they are still accepting applications so if you're a lady who blogs, go join! The exposure wouldn't hurt and you never know who might want to read your blog! :)