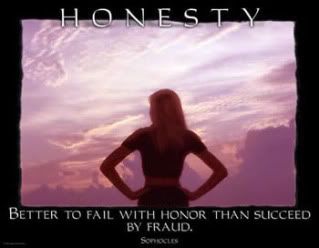 How many of you are willing to admit that something you are currently doing or have done in the past is stupid? I see and hear a LOT of people criticize others for the bad decisions they make in life but never step up to the plate and admit they've done some questionable things as well.
Not that this hasn't crossed my mind before but it was refreshed after reading two different blogs.
There is a young lady that writes about her life and she recently had a baby. In her blog, she admitted that she still smoked weed during her pregnancy. Now, while doing that is considered HIGHLY inappropriate to many people, she admitted to her fault not in an effort to brag on what she was doing but to state that she was trying to kick the habit but was having a bit of a struggle. She spoke to her doctor about it and she was taking it one day at a time.
I respected that young lady more than I do most people and I'll tell you why. Many people have a hard time admitting when they are wrong or when they've done something wrong because they don't want to look bad in the eyes of others. In my opinion, it says a lot about someone who can admit to their wrongs, even as they are trying to fix them. However, there were a couple people who commented on her blog, calling her names, and being rude. To tell her that it isn't the best for the baby is stating the obvious. I am sure she knows that.
There was another blog I read about Melanie Fiona's song "It Kills Me". 98% of the comments pretty much agreed that the lyrics are retarded and the total opposite of women's empowerment. The 2% who felt contrary...it could be easily seen that they make excuses for things they do.
I've ALWAYS had a great respect for people who acknowledge their idiocy and work towards improving themselves. I have respect for people who will admit to their moments of immaturity and if they are currently in one of those moments, not making excuses for why they are doing things. What I cannot stand is people who think they have to justify WHY they're doing something. If you know right from wrong, there is no need to justify why you're doing something wrong. When it all boils down, you're doing it because you want to. When you don't want to do it anymore, you will stop.
Instead, what I see and hear are a lot of people blaming their bad decisions on a situation and/or other people.
Just because you did something incredibly stupid at 21 that you would never do now that you are 31 doesn't change the fact that it was incredibly stupid. This is where I see the problem. When will people get it through their thick skulls that we're all humans and make mistakes? If your mistake happens to be stupid, oh well, build a bridge and get over it because that is life. I know I am not the only person that can admit I did some INCREDIBLY stupid stuff as an adult that I KNEW was stupid even when I was doing it. However, I did it then because I WANTED TO.
It is no different for any woman who can relate to that stupid ass Melanie Fiona song or who was in a relationship similar to the song in the past. You can read the
lyrics
but anyone reading them knows it's stupid to want to have babies with a man you KNOW doesn't give a rats colon about you. It has nothing to do with acquiring a certain level of maturity. It's stupid. If I decided to do it next year, guess what? I'd be stupid too. The rules don't change to suit my stupid purpose.
I wish there were more people who could be honest with themselves about their actions...