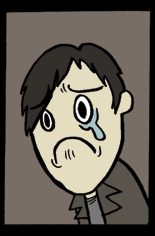 None of my family have had the privilege of meeting Babybottoms in person...because we all live in different states. However, I did do my part and alert family members as to my due date, as well as when she actually came into this world. So far, the only grandparent of mine who has taken any interest in my child's existence is my mother's mom. That grandmother has been there for me for pretty much EVERYTHING so I didn't expect anything less but I'm kind of salty about my other two grandmothers.

My dad's biological mother didn't even acknowledge the baby shower invitation I sent her, nor did she return my phone call. She has no problem calling and paying attention to her other grandchildren though.

My dad's stepmother....she's the one I REALLY want to hit over the head with a brick. Because she's so damn old and bitter, I'm going to give her a pass. My sister recently moved around the corner from her so I asked her to show our grandmother the pictures. When my sister let our grandmother know that I had a baby her response was so evil. The first words out of her mouth were, "Is she married"; after my sister replied she said, "I guess she went out and got herself a baby just like you". To be honest, I might have hung up on her had I been on the phone. My sister handled it pretty well though and stated that while we weren't raised to have children out of wedlock, the baby is here now and that is what the family should be concerned about. Our grandmother went on to say some more nasty things about us and our children. I'll probably never talk to her again.

I know my grandmother is old and miserable because of her current situation but there are people like her who aren't old and I will never tolerate their behavior. She didn't even want to know my daughters name. While it kind of hurts, I just focus on all of the people who love Babybottoms and who have been supportive of her birth.

And people wonder why my friends are more like family, then my blood relatives....