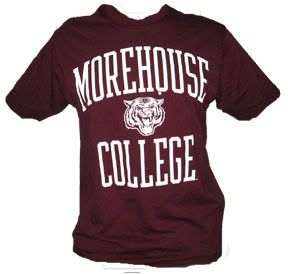 Last I checked, Morehouse College was a PRIVATE institution for MEN...did that change within the last few weeks/months/years? If so, please make me aware...that's right, it hasn't changed...AT ALL. So with those two facts still standing, someone please tell me why ALL these WOMEN are up in arms about the dress code...no arguments have made sense thus far.
When I was in high school I can remember some of the kids from nearby private schools complaining about wearing uniforms but I PROMISE you they had better test scores than the public schools. As odd as this might sound, education was the main concern and when you aren't worried about what you are wearing to school and whether or not you're "cool", it frees up more time to focus on what's important...YOUR EDUCATION.
The keywords in the above paragraph are: private schools.
Am I the only one who KNOWS what that means? In public schools, there are certain things that are allowed across the board because we live in a politically correct society but guess what happens in private schools? They make rules and anyone attending has to follow them. End of discussion. Frankly, I think that the dress code is in line with what Morehouse claims to want young men who attend their school to be..."renaissance men". Is it so wrong that a MEN'S COLLEGE wants its attendees to represent the school in a particular manner? No. When these young men enrolled at Morehouse, it was clear what was represented there and if it wasn't, they always have the freedom to go learn elsewhere.
I think the biggest uproar comes from this part of the dress code:
But again...this is a MEN'S COLLEGE so what is wrong with making that a part of the dress code? NOTHING AT ALL. This is all in an effort for the Five Wells to be implemented on campus:
"
well read, well spoken, well-traveled, well dressed and well balanced
"
When I read that part of the dress code, I didn't automatically think that they were hating on students who were outwardly homosexual. The other things that were listed as "no-no's", I looked at as distractions...just like I would if a man walked into class with a dress, purse, and pumps on. My attention would be just as diverted from the professor if some clown walked in like it was Halloween the same as if some idiot decided not to take off his pajamas, wear shades, and a doo-rag to class. I would equally wonder what was wrong with both of these men.
I wonder if the same women who are upset by these dress standards would be upset if Morehouse decided everyone would wear loafers, khaki's, vests, and button ups. But again, I say...IT'S A MEN'S COLLEGE...WHY IN THE F*CK DO YOU CARE ANYWAY???