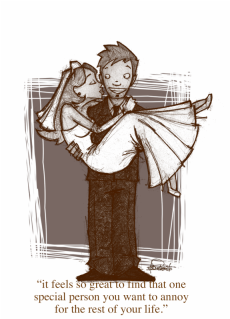 Maybe I'll come up with a title by the time I am finish writing this...
It's 4:45 in the morning and I should be taking advantage of the fact that Babybottoms is knocked out but I'm up and my eyelids don't feel like shutting. After reading the IM's I received while sleep, tweets from followers who seemed like they were in drunken relationship despair, and catching up on my blogs through my Reader, I felt compelled to write about relationships again.
As far as I can tell, from what I've been reading AND seeing, people get married thinking that the other person is supposed to change BECAUSE they are now married. It really doesn't help when I read blogs like
The First 100 Days
(his perspective) and
The First 100 Days
(her perspective)...by the way, those 2 blogs are HIGHLY entertaining and a VERY good read every day!
I'm not anti-marriage in the least bit; I'm all for 2 people loving each other enough to want to spend every day together in heavenly matrimony. I am realistic and know that every day is not going to be a walk in the park filled with bliss. But I'll tell you why I think some people jump into marriage without REALLY thinking about what they are getting themselves into.
Take for instance the guy who has NEVER been faithful to ANY of the people he's dated and uses the excuse that ever since that chick broke his heart, he doesn't feel obligated to "be" with one person in the aspect of boyfriend/girlfriend. That same logic carries over into being engaged; in his mind, he's STILL single until he says "I do", therefore, he is still "free" to do as he pleases, whenever he pleases. I have the same question every time I hear this sorry excuse to participate in foolishness...if you aren't willfully active at committing to one woman in the dating realm of things, what makes you think that because you get MARRIED, you'll willfully commit then? Being married doesn't AUTOMATICALLY strip you of ALL bad habits you've acquired while maturing as an adult. You are who you are whether you walk down the aisle today or tomorrow. This behavior simply boils down to: SELFISHNESS
So if you are dating someone that has a problem with fidelity NOW, I'm curious to know what makes some people think it will change because they stand before a pastor and group of people and say "I do".
It doesn't change because THEY haven't changed.
Which makes me feel and think some people get married simply to say, "I'z married nah!"
All jokes aside, being married requires a LOT from you as a person so once the wedding is over that you get to brag and boast to everyone about and play dress up for, all the work comes in. I think some people (read: MOSTLY women) get so enthralled with the glamour of a wedding that they put their personality and the man they are marryings personality on the back burner, thinking they'll cross that bridge when they come to it. THE BIGGEST MISTAKE YOU'LL EVER MAKE IN LIFE.
Getting married isn't the biggest mistake...marrying someone you know you HAVE unresolved issues with IS THE PROBLEM.
Some of the marriage problems I see people having aren't exclusive to "being married". These are problems ANY relationship can have if you marry someone you are REALLY not compatible with or never really tried to be. If she was selfish and bratty before you got married, that isn't going to change because you bought her a 5-carat engagement ring from Tiffany's. Sure, she might be blinded to EVERYTHING for a good 6 months after staring at that diamond but it doesn't change who SHE is or who YOU are. If he is a philandering moron whose first mind is to think of himself before you or anyone else, that doesn't change overnight either. SO...when you say "I do" and things like that have not been addressed to the point of correction, you are saying "I do take this person to be EXACTLY who they are today and tomorrow, should they show they ass on me, I accepted them for who they were so how can I REALLY get mad". Unfortunately, MOST people are not looking at it like that.
If I hear one more time, "I just figured that since he loved me enough to get married, he'd stop being a cheating azz", I'll slap the next heffa who says it. IF you were more into the wedding preparations than he was and FAR more excited, that was YOUR wedding not YALLS wedding. I don't think it ever crosses anyone's mind that sometimes guys are stupid enough to go through with the wedding to shut her up. It's the DUMBEST thing to do because you'll actually be respected more as a man for NOT making a life changing decision like this. If you really don't intend to love and cherish her as your wife, don't marry her and DEFINITELY don't waste all that money. Weddings and receptions can get expensive!
Men can also have the delusional thinking; "now that we're married, she won't be AS MUCH of a bitch; plus, look how pretty she is in her wedding dress; I'm sure she'll change for the better"...you're a fool too for trying to convince yourself of that. Sometimes women will get married because their "time is running out", all of their friends are "doing it", it just seems right to do, and/or there are children in the picture. So they'll marry this man but as soon as the sparkle of "I do" wears off they go into this mode of making his life miserable for marrying them, or so it seems.
I tie all of this back to people not ACCEPTING who they are marrying for who they REALLY are.
My parents (being the loving people they are to me) questioned whether or not me and Babybottoms father were going to get married. The honest to God truth is, we both love each other to DEATH and we have lived together with no problems (i.e. him washing dishes consistently is NOT a problem; him acting a donkey fool is...I don't have THOSE problems) so to the uninformed outsider looking in, we shouldn't have a problem getting married. Here is the MOST important truth of all when it comes to us getting married...who he is TODAY is NOT the man I would want to marry. Is there something "wrong" with him? Not really; I just know I EXPECT things to be a certain way should I ever get married and if he can't commit to those things, WE DON'T NEED TO BE MARRIED. They are not things that I've pulled out of my azz and I want him to sign in blood but anytime someone acts like the mere thought of marriage would be torture and that they'd POSSIBLY miss out on "something", YOU SHOULD NOT MARRY THAT PERSON. Sorry babe, that is you. Marriage terrifies me but if you want to see someone who is more scared than I, look at Babybottoms dad.
So when he hears of guys getting married and their wives becoming the bane of their existence he smiles because it supports his theory that marriage is the destroyer of ALL great relationships. I remind him that in reality, the relationship wasn't that great to begin with IF that happens. Some people ignore their warning signs and plunge head first into a commitment that isn't to be taken lightly. I'd like to think I'm smarter than that, which is why I'm not married now.
The institution of marriage was created so that people would grow closer together, not apart, but if you are oil and water, there is NOTHING marriage can do to fix that. The one thing I don't see much of with these problematic marriages is the willingness to compromise on both people's ends. Babybottoms dad and I get along to this day because we can compromise when necessary. I don't badger the f*ck outta him about who he is and he leaves me alone, as well. We have open lines of communication where we discuss ANY and EVERY THING, no matter how side-eyeish it might seem. He and I are really best friends and it does puzzle people that we don't just go jump the broom but it is VERY important to me that I do not have a phobia of getting married while walking down the aisle...and even more important that the man I love dearly, doesn't share that phobia.
So who knows, if both of us can move pass that, we might get married but to be honest, I don't think either of us even really want to. Apparently, that is the one thing we can't and won't compromise on so...we won't be getting married.