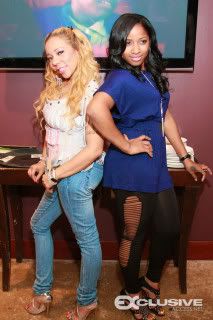 I need for people to know the difference between being raised in the hood (i.e. what MOST people read off as you being "ghetto") and acting like a damn fool.
I will admit that when I heard the show Tiny & Toya was coming out, I was one of the first people to give it the side eye because:
1 - it's on BET ( I ABHOR this damn television station because it's almost like it is trying it's hardest to live up to EVERY NEGATIVE stereotype about African American/Black people that was ever created; I have a problem supporting a station that is supposed to be for Black people but only targets f*cking idiots)
2 - every show that has been on BET has been an embarrassment to me as an educated Black person (this includes Keyshia Cole's show; granted she wasn't the one acting a plum idiot every episode but it showcased her crazy azz family and NOW...everyone and their momma think EVERYBODY Black and/or in Oakland and/or from Oakland acts like these coons...I was born/raised in Oakland. It rubs me the wrong way at times...)
Because of those 2 main factors, I steered clear of watching anything associated with the show. A few of my friends had status messages on Facebook about the show and I laughed or joked them about watching it BECAUSE it's BET...did I mention I HATE that station? But what could I REALLY say about the show? I had never seen it so my bias would be VERY apparent and one sided. So I just laughed about surface info I knew about Tiny & Toya...which really aint much, considering 5 million other people know the same thing I know about them...Tiny is T.I.'s girl and Toya is Lil Waynes ex-wife.
I watched it and I will admit...I like these 2 chicks. Seriously, all BS aside....I have friends who have similar personalities to both of these women. They weren't acting belligerent, ignorant, and embarrassing the entire population of Black/African Americans that actually operate in life like they have some damn sense. Considering how Toya grew up and how young she was when she had Reginae and married Wayne, she could have been the stereotypical "ghetto" banshee that so many people allow to represent Black women as a whole. But she isn't....and she wasn't one time in the show. She wasn't loud and just....dumb as hell. She act like she has some sense...and I appreciate that more than words can express.
Tiny...parts of her life look TOTALLY unnecessary (all them kids and not married) but really, who am I to judge her? Whether you have 4 kids and not married or 1 and not married (read: me), we both in the same boat. So let's not focus on the obvious...but let's look at how she carries herself. Just because she talks "country" as hell that doesn't AUTOMATICALLY make her "ghetto". Her accent is a direct result of her geographic placement...not a signifying factor of her intelligence level. Never once do you catch her being a constant embarrassment to Black women either.
Now, I know this was just episode 1 I was watching but it made me reconsider whether or not I would watch anymore episodes. I think I will. I'm sure something might happen that causes them to show one of their many sides of being a woman but personally, I don't think it will be anything that you can directly connect to Black people just acting a fool on TV.
For anyone who hasn't watched the first episode and has refused to support BET, feel free to watch the video I attached below. It isn't a disappoint to the Black race and doesn't set us back a few hundred years. Watch and THEN form a better opinion... (the video has been removed from my blog because it automatically plays when someone goes directly to my entire blog; kind of irritating so run a search if you want to see it. I found it at Daily Motion. Adios!)