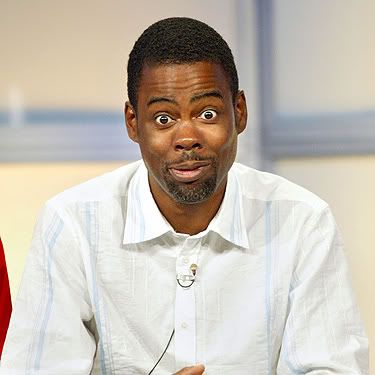 So, Chris Rock has incited some fury in a few folks with his movie/"mockumentary" called
Good Hair
(I only call it a "mockumentary" because I'm sure the jokes are gonna fly the entire duration of the film, intentional or not, and some folks are going to be hotter than fish grease about it).
Several blogs have been generated that bring into question how Black someone is based on their hair, how parents deal with a child who has hair that doesn't resemble theirs, why reactions are different to certain hairstyles that Black women wear. For the most part, you can QUICKLY tell which people are sensitive to this issue. If you happen to have a differing opinion, you're quickly treated as though you aren't Black enough to speak on the subject because "you probably got that "good hair" yourself". I call bullshat on it all.
Some days I walk out the house having a GREAT hair day; other days, it aint so fabulous and don't get too close because you might not like what you see. I can live with this; I'm not perfect and neither are you so no harm, no foul.
Personally, I feel, if you are going to let someone make you feel inferior because of your hair texture, you have bigger problems with YOURSELF than anyone could EVER make you have. If you comb your hair and look presentable, what effing difference does it make if you have a tighter curl pattern than the person sitting next to you?
As a Black man, you should feel free to date who you please without being attacked by Black women about your preference in Black women you date. So what if your track record shows you date lighter skinned sisters than yourself who wear their hair straight? If he was dating a White woman, then some Black woman would have a problem with that. It's almost like there are a class of people sitting around waiting to have a problem with something everyone does. I just want to know...what in the f*ck is the REAL problem with YOU? Would the situation be any different if he chose to date a "sista" who had natural hair but ALWAYS wore a straight weave? Let's ask her WHY she isn't "comfortable" wearing her natural hair she PURPOSELY doesn't relax but opts to wear some hair that isn't even hers, relaxed. Is HE still the problem or should we divert our attention to her and MAKE her have a problem for wanting to wear a hairstyle contrary to what's growing out of her head? You see how silly this can get?
Yes, I do think there are better things to think about and draw attention to than the texture of someones hair...seriously, don't you too?
Hair is just like eye color, skin tone, and anything else you inherit from your family....it's determined by your parents collective gene pools. Therefore, you could be that ONE person in your immediate family that has the "kinky" hair or the "good hair"; you have kids one day and their hair texture is TOTALLY different than yours. Your kid has either dug in your gene pool or the other parents and pulled out a trait different than your own. Can we still sit up here and have the same dumb azz argument that you can't relate to your child because you have different textures of hair? It's seriously ridiculous. You work with what you have and if you don't know what to do with "kinky" or "good hair", as a parent, you learn. Also as a parent, you teach your child to not walk around like they are better than anyone BECAUSE of the texture of their hair. This lesson isn't JUST to be taught to children who have "good hair"; teach it to the children who have the "kinky" stuff too because there is a shatload of Black women walking around who THINK they are FAR more ethnic than their "sisters" because they wear their hair natural. Basically, you're an idiot if you measure your Blackness by the texture of your hair.
When someone who isn't Black looks at me or my mom, all they see are two Black women; they aren't sitting there analyzing why my hair is lighter and longer than hers. Although my mom is shades darker than me and let her tell it (she's old school), I have "good hair", she can out grow my hair ANY DAY but to the outsider looking in, how would you know that if you judge folks Blackness on their skin color and hair style? You'd have to make another silly assumption that in the end doesn't really make sense anyway. My hair can be just as difficult to manage as anyone elses; I simply know what to put in it so it doesn't look dry as the Sahara or doesn't roll up on the back of my neck and look like black rice.
Point is, get over the hair issue people and work on how you perceive yourself, as well as, your perception of other people who look different than you. If God wanted ALL Black people to look alike, he would have made us one color and with one texture of hair. Any other time you'd be offended if someone said "all Black people look alike" but in this case, it's almost like you aren't happy UNLESS we ALL look alike. Make up your minds people....