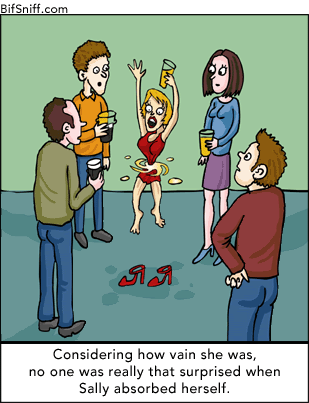 How many times have you read something that seemed like it was a page torn right out of your life? The USUAL response is one of "PREACH", "AMEN", or some other words/comment that expresses that you relate to what was written. That's how most people end up reading other people's blogs. Other times, you might be going through something in life and out of the blue you read something that is relevant to your life experience...almost like this person is speaking directly to you. At times, you might feel like "Ok, well I don't agree" but at the same time, it sits in the back of your mind as someone who experienced something similar but felt different than you.
So my question is...why does this change FOR SOME PEOPLE if what is written is by someone they personally know? Why do people AUTOMATICALLY assume you're talking about THEM? I will never "get" why some people are SO self-assuming. I just want to shake them and tell them that the world does not revolve around JUST them. For every 1 thing you go through, there are hundreds of thousands of other people going through something similar.
For instance...one of my friends wrote a
blog about "friends" with benefits
. He stated his opinion on it and of course his blog was open to other people's opinions. I could have taken it personal like "Oh, this fool is talking about me and what I went through" but I didn't. For one, he didn't address me. Granted, he has some details as to a relationship I was involved in that was EXACTLY what he mentioned but is that to say he can NEVER write about it because we've discussed it in the past? Nope. He can write about whatever he feels as long as he isn't saying things or using MY EXACT SITUATION to let me know, "Hey, Syn, I'm talking bout you nigga". I actually commented on the blog because hey, we all have our opinions, whether we agree or not. Plus, I know he wasn't targeting me. He was just writing about something that probably crossed his mind.
Maybe I just don't read much into other people's opinions but there are A LOT of people who network online that do and I think they all need chill pills. If you're a spoiled brat and someone you know writes about how spoiled brats irritate them, don't be salty; that's just how they feel about spoiled brats. They might reserve a special place for you and your brattiness to be tolerated. If you run off at the mouth a lot but someone STILL chooses to be friends with you but they happen to write something about someone they ran into that was running off at the mouth, that doesn't mean they are talking about your sensitive ass.
Even though I have a rainbow coalition of friends/associates, there are some that behave the same. There are certain people that I go through similar things with; sometimes I write about it, sometimes I don't. To sit here and sift through people that MIGHT get offended about something I MIGHT write is utterly ridiculous because I can PROMISE you, NONE of them do that. When I write, I simply write about what's relevant to me at that very moment. If I've experienced the same thing with several different people in a short period of time, 9 times out of 10, I will write about it from my viewpoint. I'm not writing about one person in particular; just writing what's on my mind....like MOST writers who ACTUALLY write.
I must say that blogging/writing is sometimes a one-way street of expression for some people...they want to be free to ruminate on whatever flows through their mind, whenever it flows there, and then get it out, whether it's through blogging, notes, poetry, or any other form of writing...but if for some reason they are having an "I'm sensitive" day, you better watch what you say/write because you MIGHT offend them.
And what I have to say to that is f*ck your entire life because I'll write about what I damn well please, when I please. Don't like it, stop reading/stop talking to me. Grow some thicker skin if you still wanna be my friend/associate, otherwise, we aren't the people for each other. EVERYTHING I WRITE IS NOT ABOUT ONE SINGULAR PERSON, UNLESS I SAY IT IS.
Everyone, have a nice day!