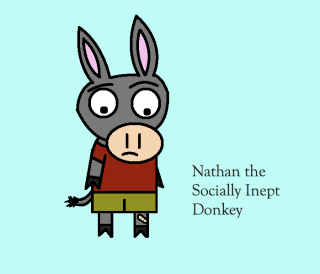 One of my friends wrote a blog called
Socially Inept...(An Ongoing Post)
and asked for people's opinions on twitter. As I was replying, I noticed my comment was turning into THE most long-winded comment EVER. I read a quote earlier today that said if you can't say what you need to say in 20 words or less, write your own damn blog about it (or something like that).
So here is my opinion about
Socially Inept...(An Ongoing Post)
:
If you REALLY didn't think it needed to be said Jolla, you'd have written a blog about something else so...shut on up (I say that with love LOL).
When I first read the post, it came across as something that was being cast in the light of yet another problem we as Black people have that we need to desperately attend to because we are making ourselves look bad. If you take environment into account, it isn't JUST Black people who are "afflicted" by the baby daddy/baby momma syndrome so what are other cultures "excuses"? Can't blame the slave mentality on Whites, Latins, Asians, and any other ethnic culture that experiences this SAME thing...can we? It's VERY easy to blame EVERYTHING negative Black people experience and go through on a day to day basis as us reverting back to our slave roots. Why can't we just be honest and admit, this really has nothing to do with that? It has EVERYTHING to do with people simply making "bad" decisions and CHOOSING to live with them.
Take for example this individual I was friends with some time ago.
She felt the need to speak on this very subject. To the innocent bystander listening to her talk about the social ineptitude of Black people, she appeared to be someone you should listen to. She was in her late 20's with no children to speak of so she wasn't a statistic...like the mentally slave retarded people she was kicking in the neck with her boot. What the general public was not aware of was that she has had 3-4 abortions and just as many miscarriages. If you add up all the children she COULD HAVE taken full term, it's AT LEAST 5 children I KNOW OF. 4 of those children would have had different fathers. THIS would have made her a prime candidate for the evils she preached about but since no one could see the children that were ALMOST sired on her behalf with 4 other men, she is in the free and clear to talk about a situation that, fortunate for her, IS NOT HER OWN. (in her case, she made bad decisions that she REFUSED to live with)
My point in mentioning her? Having 3-4 abortions that had NOTHING to do with health issues but more so (first abortion) being too young, (second abortion) still being too young, (third abortion) the dad didn't want the baby, (fourth abortion) she didn't want the baby RIGHT NOW...all that adds up to is someone making bad decisions in LIFE...not a slave mentality.
Miscarriages....you really can't control those but if you were secretly happy that you miscarried a child you were pregnant with because the father really wasn't someone you saw yourself raising a kid with...well, that isn't slave mentality either. That is still a product of your bad decision making.
So my opinion, in a nutshell on Black people being socially inept (in this instance)...I think it has more to do with CERTAIN PEOPLE continuously having poor judgement...not folks reverting back to a slave mentality. All the other gibberish above was supporting brain fodder for my simple opinion.