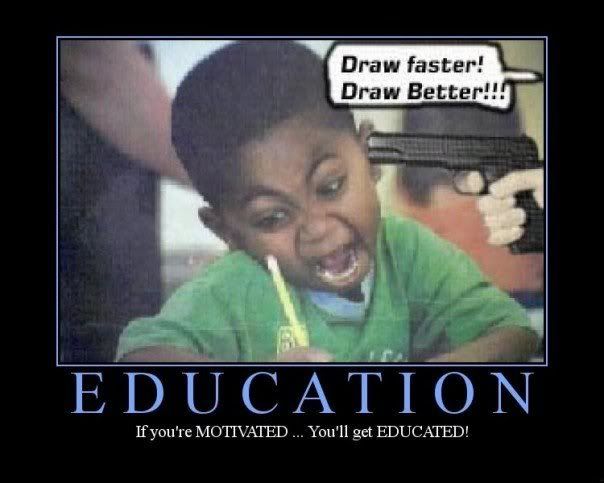 I don't know who told the general population that just because they graduated from college that makes them smart because I know plenty of people with degrees but the smarts of a gadfly.

In the last week, I've read several blogs about women who think having all these degrees makes them more desirable in the eyes of men...as well as, blogs about women who will ONLY date men who are just as "educated" as themselves. Does a degree make you love someone more? I guess if you are fixated on what kind of job that degree MIGHT get you.
I know TONS of women with degrees...would I EVER encourage my guy friends to date them? Hell and no. PLEASE NOTICE: I said I KNOW women...I didn't say these women were my friends. I also have friends with degrees but if I know that my guy friends are looking for an intelligent woman, well, her having a degree has NOTHING to do with that. I KNOW far more intelligent people who NEVER went to college or just didn't finish than I do people who have degrees. This is how I know JUST because you have a degree it doesn't automatically give you a right to some kind of intelligence. You can still be an idiot with no common sense and have a PhD.
Graduating from college requires that you know how to study, prepare for tests, and interact with people well enough to get you to the next level. In some cases, you just have to know all the right people at your school and you have a degree before you even set foot on campus for your first day (example: George Bush). It doesn't mean you're a prime candidate for dating, a job in the field which you are studying, or worthy of the degree on your wall at all. I can name 10 head cases that are in law school right now. I can name 5 women who are doctors (or studying to be) but have problems with ALL the men in their life. I can name 20 women AND men who have degrees from "prestigious" schools but have no common sense to save their own lives. The sad thing is, there are plenty more people out there willing to spend money they don't have on an education that more than likely has NOTHING to do with what their life aspirations are.
So why all the blogs about men and women who feel YOU MUST have a degree in order to date me? It's all bullcorn to me and people with raised expectations of things that REALLY don't matter in the end. Just being honest...I'd rather take a guy with a high school diploma who treated me like Queen of the Earth and has the potential AND actually doing something to amass his wealth outside of working for "the man" for the rest of his life, over some numbnutt idiot that graduated from Harvard but can't manage to treat me like a human being and has no foresight into his future past making 6-figures.
To each his own but the things I aspire for in life have NOTHING to do with a degree, therefore, I would NEVER measure myself against that piece of paper, nor do I measure others.
ATTENTION:
I do feel there are some fields a formal education would serve you well in; I would never go to a doctor who learned how to operate on people by cutting up the neighborhood animals. I'm just saying, people need to use their common sense and realize, having a degree does not insure overall intelligence or the automatic ability to love someone.