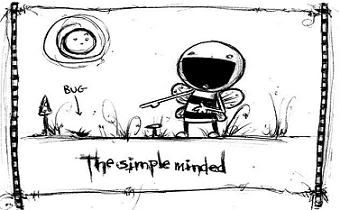 I've been back from Miami a day and a half and I already wish I hadn't left. While I was down there I solidified my decision to leave Atlanta after Babybottoms turns 2. I'm tired of Georgia and I need a change of pace, plus, I said if 10 years went by and I still wanted to leave, I would. So far, I have 2 solid locations in my plans of relocation. Even though I've been thinking about leaving for the last few years, it will be much like when I left California...when I leave, people will think I just woke up one morning, packed, boarded a plane and never looked back.

I don't care to involve too many people in this plan to move because there will always be that group of people who will try to talk you out of doing something YOU KNOW is best for you...right now, this is best for me. I need to be around new people...different people. My environment needs to change and my motivation to GO came in the form of this little grub cocooning in my belly. I want to move somewhere he/she can get some life experiences that most little kids won't EVER have a chance to experience. This is the first time in my life I'm actually considering living somewhere with my sister. We're both very nomadic people...can't seem to stay in one place too long, whether it's a city or apartment...I don't know who moves more, me or her, but this move, I want it to be for the kiddo and I want it to be somewhere that is comfy enough that we won't WANT to move...unless it's absolutely necessary.
In the meantime, I am plotting my leave from my job. While 11% of the USA might be looking for employment, due to being unemployed, I'm trying to get laid off. Imagine that! My reasoning behind it is of no one's concern but mine BUT I will have to go 3 months with no pay after I have the baby. Not a good look for ANYONE, whether you are working or not. Therefore, I must fly this coop as soon as possible. I'm taking my leap of faith and getting back to my writing full-time. I'm gonna convert my screenplay into a novel and call this publisher who pretty much told me, when I'm ready, he's nothing but an email away. I'm ready. I've successfully filtered my life of insignificant people who wallow in their stagnant nature so the need to succeed has grown even bigger. Plus, I want to be able to spend as much time with my kid as possible. Working from home will allow me to do this.
Speaking of writing...check out this online magazine:
I write a column/section called
True Thoughts
there. I urge you to look at the ENTIRE magazine but my column/section is the very last page. Some people might scoff at that but I smile with glee. I'm honored that the last thing they want people to remember are my words. It's somewhat endearing. Anyway, go take a look. The lady (Sommer Johnson) who got this great magazine up and running is going to be a GREAT success because her ambition to stand out and be different is there and she is motivated to MAKING IT HAPPEN. I've written for/edited my fair share of magazines and websites but this feels like something I could do whether I'm generating income off of it or not....which can't be said for A LOT of the magazines/websites I've worked for. Magazine publishing is a VERY hard business because the life of your magazine is based STRICTLY off generating advertisement. Considering the recession our country has slid into, people with money are very wary about where they spend it and advertising is the last thing on their minds. I commend Sommer because despite this, she is pressing forward. She's not letting the recession stop her from accomplishing her goals...and that is why I'm privileged to write for her magazine. She's inspiring!
My job hunting will kick into over drive once my Internet is up and running at my house. I have Comcast to thank for the snail like pace in which I am acquiring Internet. Effin slackers...
Thankfully, I have some pretty cool neighbors who helped me speed up the process of getting my Internet up and running by providing me with a modem (now I don't have to pay Comcast monthly for one) they just had lying around. I should be up and running no later than Friday! Woo hoo!
Until then, I am subjected to posting when I can...like now. I must get back to the slavery that is my job right now (only because payroll is coming up and I want MY check) so until next time...