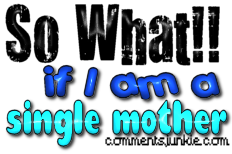 I was raised in a Christian household that enforced a strict code of ethics and morals. I appreciate it more now than any time before in my life because it gave me a foundation of principles that I will also pass on to Babybottoms. Did I follow EVERYTHING my parents instructed me to do and not do? Of course I didn't...what person do you know followed their parents counsel 100%? NO ONE and I dare someone to lie and say they did EVERYTHING their parents wanted them to do.
My friends I grew up with, did "dirt" with, was best friends with, well, I am only still close to really just one. We've managed to stay close because throughout our friendship, regardless of what is going on with our lives personally, we never judged each other based on our actions. Being raised in a Christian household, I was taught that judging others is your quickest ticket to being judged yourself and the minute you do something wrong or something out of the "norm" happens to you, people aren't so ready to sympathize with you. I left the judging to those who like that sort of thing.
So when I got pregnant, there were A LOT of people I stalled on telling...namely, a good handful of people I grew up with. Granted, I'm grown and I don't put much energy into how people feel about my life decisions but I do care what my REAL friends and family think and say. Those people are important to me and if I've disappointed myself in any way, my next concern is how much I've disappointed them.
Telling my mother was fairly easy because she has always viewed all three of her children as simply...her children. No matter what has happened with my brother, sister, or I, and no matter how horrible it was, she looked at us the same way she did when we were born...as her children that might need her help one day when we get in situation that requires love and understanding. My father on the other hand...he loves us just as much but he has ALWAYS been the voice of reason for the ENTIRE family. Emotional isn't really his forte but when he was upset or disappointed in our decisions, he had no problem letting us know. He never really judged us but he did make us think about the consequences of our actions and laid it out straight. It was harder to tell him because all I could think about was when my sister got pregnant at 18, how he treated her.
My sister lived in the same house as my parents and my father didn't speak to her for 6 months. I thought he was ridiculous then (and I still do now LOL) for acting that way but if you look at from a father's perspective, I can understand why he reacted like a 'tard. It was his first born daughter...getting pregnant at 18...still living at home...not married...as a parent, you automatically feel obligated to STILL take care of your family and if this isn't in your life plans, you get upset. Granted, he didn't have to stay upset like he did and I still believe to this day, it has caused a permanent rift in his relationship with my sister. But as it stands, my sister had the first grandchild and my nephew spends so much time with my parents that it might as well be their 4th child.
Bottom line, my parents didn't like the fact that my sister had put herself in a situation that caused her to go contrary to how she was raised but it was no longer about her actions that led her to being pregnant...it was about that baby that was on the way.
Regardless of how a baby gets here, they never asked to come in this world so when they are on the way, those who genuinely love the person carrying the child, should do what they can to make that child's entry into the world, a pleasant one. I did mention we were raised in a Christian household right? So, the belief that children are a blessing from God STILL applies...whether you are married when you conceive or not.
So back to me...telling my friends was a hard thing to do because they have ALWAYS known me to not want kids unless I am married. I'm 29 and up until January, I had never been pregnant in my life. I NEVER wanted to do this "alone" because I've seen so many other mothers who have and it has been a struggle for them. I didn't think it was any different for me and so far, it hasn't been.
There were 2 people in particular that I REALLY didn't want to tell because for as long as I have known them, they have ALWAYS judged others for the things that they do. No one wants to deal with that...especially while you are pregnant. But the more mutual friends that found out, I figured I needed to speak up and say something so they wouldn't find out through the grape vine. One persons reaction was the total opposite than I had expected and it made me feel better that she hadn't taken her personal opinion on what happened for me to get pregnant and thrown it in my face. The other persons response...it was the opposite too but I could tell something wasn't being said.
Sure enough it comes out later that she doesn't and can't support me having a baby out of wedlock, simply because I wanted to send her a baby shower invitation.
This train of thought would make sense...if it was consistent with her actions. I wanted to ask what exactly was her definition of supporting someone who had an illegitimate child because in my mind, that would entail not being around us at all...ever. You don't decide when you want to be encouraging and nice to someone with a bastard child and when you don't. My problem isn't with her opinion...my problem is with her reasoning not coinciding with her actions and it just doesn't make sense.
So coming to a baby shower is supporting me not being married and having a child...but wouldn't giving advice on how to raise my kid, talking about my pregnancy with me and assuring me everything is gonna be fine, having jokes about me and kid's father, telling me I can call you if I need anything or help, and/or eventually having play dates with my kid, also a form of support? Maybe my brain has turned to mush in the last 5 months and I don't know any better but yeah, I think those are all forms of support.
Not that I care if she came to the shower or not (because we live on two different sides of the states), it's the principle of the matter. The baby didn't make me fornicate and as a result, here it comes 40 weeks later. The baby shower isn't for me...it's for the baby. So in the future, if you did ANYTHING for my child, does it change the fact that you would then be "supporting" me and my bastard child?
The point of my sharing all this unnecessary info is that when people have kids, make it about the kid, not the parent. Judging someone because of their actions contrary to how they were raised is not your place either. (If you believe in God) Let God do his job of judge and juror...he'll deal with me in his own due time but to pick and choose when you want to be there for someone who is supposed to be your friend that is having a baby? That's ridiculous...it's all or nothing.
The really sad thing about all this and how some people act is the same ones that judge you, can EASILY be judged for their behavior but they don't even realize it. The person who said she didn't want to support me having a baby out of wedlock, she has based how she feels on "biblical standards". I laughed inside because I've always known her to be this way but sometimes you think people have grown past certain things in their life. It's obvious she hasn't. Her life hasn't been 100% sparkly clean...not since we were kids and not even now. If we were to talk about the things that God doesn't like that is going on in either of our lives, we'd both have our fair share to contribute...but I suppose since mine is more obvious (read: you can see me being pregnant) it is easier to pick at it.
Knowing that this is how she feels, it baffles me as to how she would think I would EVER ask her about anything regarding a child in the future. She doesn't understand that even though she might not be saying it every time she picks up the phone or IM's me, that underlying feeling is still there. Every time she cracks a joke about my situation, I'm going to feel some kind of way about it. If you don't agree with my situation, this is nothing to crack jokes about...EVER. I don't see how she could even fix her brain to process that her behaving like that is okay. I crack jokes with people who don't judge me because then I KNOW it's sincerely a joke...not really how you feel glazed over.
There really was no point to me sharing this with complete strangers...I just didn't want to think about it anymore after today so I wrote about it. Comment if you want or don't.