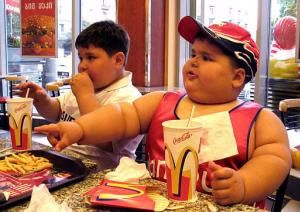 My ears tire of people and their opinions that have no traces of common sense in them. I hate to hear someone who is NORMALLY educated "sounding" get on their soapbox and say something stupid like "commercials on television are making our kids fat". *sigh* Commercials can't do ANYTHING but make your kids nag you about something they want...you as the parent should have half a brain enough to know that just because your kid wants it, doesn't mean they HAVE to have it.
So some lady who was up in arms about the new Spongebob Burger King commercial was talking about how it objectified our little girls and the usual conversation of the media being responsible for putting negative images out there to...our children. She mentioned that some of the commercials also could be blamed for the obesity in our children and that is where I just tuned out. 
McDonald's, Burger King, and Wendy's have ALWAYS had commercials since their doors opened. Some commercials are catered to entertain children, others are catered to entertain adults. Every now and then, the lines are crossed to pull the entire family into the entertainment. Take for instance the commercial that was SPECIFICALLY manufactured to get kids to eat healthier from McDonald's. The little boy dressed up in B-Boy gear, bringing a boombox to the dinner table, dancing to Cha Cha Slide while eating his apples....while dipping them in caramel sauce. I guess parents were happy with that...instead of your kid getting fat from eating chicken nugget meals obsessively BECAUSE YOUR DUMB ASS WON'T STOP BUYING THEM FOR THEM, now their teeth will rot out of their skulls because they can't stop eating that caramel sauce...with their healthy apples.
Commercials and advertising do not MAKE kids fat...parents who don't give a f*ck about their children's health ALLOW their kids to GET fat. When was the last time you saw a 5 year old go work for 40 hours a week, cash a check and tell their parents, "I eat what I want cause I work 40 hrs a week"? You've never seen that because kids don't work...parents do. I understand that it is easy to stop by some fast food spot on the way home, grab dinner, and get on with your life but if you REALLY cared about the welfare of your kid AND THEIR HEALTH, you wouldn't doom them to a life of obesity like that. Some children are blessed with a speedy metabolism that allows them to burn that crap off as easily as they put it on but if your kid ISN'T and spends more time in front of the television and computer than is healthy for even an adult, you're gonna have some obesity issues on your hands.
Another thing...if you are obese and have bad eating habits, 9 times out of 10, your kids will be too. It has NOTHING to do with the commercials that are being aired on TV.
Me, my brother, and sister used to get all excited when we'd see Happy Meal commercials and IMMEDIATELY run into the other room to beg for that ride to McDonald's. Did my mom say, "Oh kids, please don't force me to take you there"? Did she even get up and say "Sure, grab you coats, let's go"? No. Unfortunately for our naive and unaware asses her response was usually, "You have plenty of toys already. That's all you want a Happy Meal for anyway" or "Are you hungry? You really hungry? Ok, go in there and make a peanut butter and jelly sandwich, grab a banana, a glass of milk, and sit down somewhere and eat it". Sure, we HATED her for all of 2 minutes for ruining our dream of McDonald's but we ain't never been obese a day in our lives.
My dad...he'd just laugh in our face , walk us to the refrigerator, point to some carrots and celery, a jar of peanut butter and a container of ranch dressing and tell us if we're REALLY hungry, we knew what we could eat. When we'd sulk back to the living room, he'd laugh again and say, "Guess you weren't that hungry, huh". And the truth was...WE WEREN'T HUNGRY; WE JUST WANTED IT BECAUSE WE SAW IT ON TV.
I won't lie and say my parents NEVER let us eat fast food but it was WITHIN REASON. It wasn't EVERY TIME we said we were hungry, nor was it EVERY TIME we saw a commercial and felt we needed some fast food in our life.
Some people make the mistake of thinking because they eat crap all the time and aren't obese, they are okay. The issue here is NOT being hefty...it's being healthy and if PARENTS were more concerned about their children being HEALTHY, they wouldn't allow their children they supposedly love so much to eat a slew of unhealthy food. Fast food sometimes is okay...all the time to the point your child looks like that kid up there, well, you should be beat twice daily for killing your own child slowly.