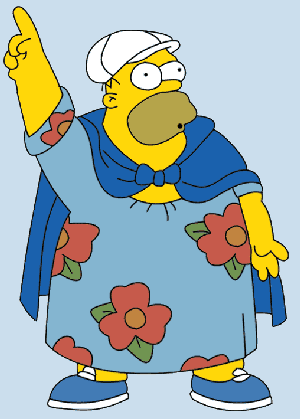 I would really like to know why some people think that because they've gained an enormous amount of weight, that they have to start dressing...like that up there.
Because you gain weight you have to lose your fashion sense? No...no you don't. And if you are one of those people who choose to lose their fashion sense because you don't think they "make cute stuff in your size", you DEFINITELY aren't allowed to comment on the fashion sense of others.
BEING BIG DOES NOT RESERVE YOU A RIGHT TO BE BOOTSY.
I used to have a friend....big as an Orca whale but she still dressed nice. As a matter of fact, most of her wardrobe came from Bloomingdales...yes azzholes, Bloomingdales does have PLUS SIZE clothing. So in my mind, if she could still manage to keep her appearance in check with the times, ANYONE can. At her biggest, I believe she was somewhere between a 24 and 28. STILL...dressed nice. So if you're walking around with a tent on because "that's all you could find in your size", I'm here to tell you that you're a damn liar. It might be the only thing YOU can afford but that aint the ONLY thing available for purchase.
The thing about being hefty is when you dress bad, you actually draw more attention to how big you actually are. Simply wear clothes that are your size and made well and you can still manage to look decent. Put on a moo moo and you'll most certainly look like the cow size you are. I'm just saying...this isn't a blog to clown people who aren't thin. On the contrary...I was recently afflicted with a growth that will inevitably cause me to gain a lot of weight and there is nothing I can do about THAT....but I can do something about my fashion...and that is, not let my size dictate how fly I can or can't dress.