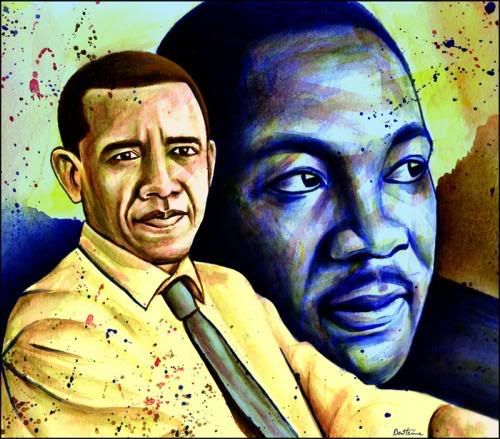 I'm the only Black person in my office and it feels very odd...considering today is MLK Day.

Even
Google
has acknowledged this man as being important in America's history by having him as the featured graphic on the home page when you go to type in a search. 
But here...the day is going along as normal and it probably will all day. Pay no mind to the fact that I am walking distance from the house that MLK was raised in as a child. Pay no mind to the fact that half of Downtown Atlanta is shutting down to honor him (well, certain streets but they are major streets in the downtown area). Pay no mind that the MLK Center is also walking distance from my job and that is why most of the streets have been shut down.
And also....as if ANYONE in the world can forget it....tomorrow is the Presidential Inauguration of Barack Obama.
But I am stuck here working as usual.
I have prepared myself for the asinine jokes that my boss will more than likely crack, thinking that I want to hear this silliness because I am so liberal minded. I might believe in freedom of speech but I don't want ANYONE who doesn't really know me as a person to crack jokes about having to work on a day that EVERYONE recognizes as important but because there is only one Black person in the office (read: me), it all of a sudden can become a joke.
At my previous place of employment, we were allowed to take MLK off if we chose to. Something like an elective holiday. If we chose to work on that day, we could use the day at another time. Here? It wasn't even discussed and I feel like bringing it up will stir up a conversation I really don't care to have. Did I mention I'm the only Black person here? Therefore, it's me and my wishes against them. I get the feeling that no matter how revered MLK is here in Atlanta, Georgia, me taking a day off would be looked at as ridiculous. I just get that feeling based on things that have come out of certain people's mouths at my job...
I mean, I feel I'm validated in my thoughts because I have to deal with one person in particular who swears up and down OJ is my "homeboy"....why? It was explained to me that it wasn't because he was Black; it was because he was from Oakland. Well, here is the problem with that...Orenthal James Simpson is NOT from Oakland.  He was born in San Francisco, and yes, they are two VERY different places in California; anyone who lives there can tell you that. So every time OJ was in the news, I get to hear the dumbest conversation about "my homie". Bad association and I can only sit here and WISH they still act like MLK Day isn't important...just long enough for me to get through my day without having to stare at them like I want them to go jump in a river and drown...