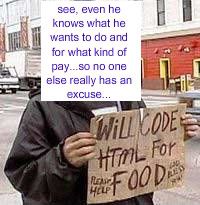 For some odd reason when people are looking for a job, they always ask me if I've heard of any open positions or companies hiring. Maybe it's because I retain jobs for a long time...maybe it's because I know a lot of people who have their own companies...maybe it's simply because they don't want to do the work of actually looking for a job themselves. I will never know but people ALWAYS ask me "You know anyone who's hiring"?

My questions to them have been and always will be:
"What do you do? What do you want to do"?
I completely shutdown and cease to want to help anyone who gives me the following answer:
"I do anything and everything! I'll do anything"!
No you won't and let me tell you why you won't. Fast food and retail are ALWAYS hiring (recession or not). You didn't need me to tell you that but I bet you didn't go apply there before asking me where the jobs at. I really want people to help themselves before they look to others to help them. Seriously...
So I get a phone call yesterday...."Hey, you know anyone hiring because I have a friend who is looking for a job". So I ask what the friend does. She just so happens to be sitting next to him and hears me and yells out, "ANYTHING!"...I wanted to hang up but I stayed on and finally chose to say, "No, what does her resume say she does". He asks her and she says to tell me she'll do anything. Ok, this is where I have a problem. I am not getting paid to find you a job in Atlanta, when you live in California, one. Two, you can't do anything so why would you say "ANYTHING!"? I've seen a job for Director of Operations at a Fortune 500 company...you can't do that because IF you could, you'd either have a job or you wouldn't be asking me to help you find ANYTHING. Director of Operations at Fortune 500 companies make a certain amount of money and if they are out of a job, they aren't looking to do ANYTHING; they're looking to do what they did before, typically.
So before the brain damage can start settling in I tell him that they need to call me back when she figures out what  it is she wants to do in Atlanta; maybe then I can point them in the right direction. He goes on to say, "Well, you make XYZ a year, right?"....I respond that I didn't see how that was relevant to what she wants to do. He says, "Well she wants to make what you make". *sigh* "Does she do what I do?" is my question to him only for him to respond, "No, she do Admin work"...*sigh* "Well she isn't going to make the money I make unless she has experience being an Executive Assistant and that's usually with 5 years under her belt", was my reply. His next question? "Well, are there any of those jobs out there?" At this point I told him she needs to register with a temp agency, tell them what she wants to do, tell them the pay she wants, and go from there. I can't help someone who has no idea what they want out of life except a paycheck. If I refer them to a job making $9 an hour, they want a job making $15. If I refer them to a job making $15, they want a job making $25. There is no winning here and I'm at work and they're getting on my nerves...already.
Looking for a job is very much like looking for a car. You know what your overhead is, therefore you know what you can make on the low end of things and what you'd like to make to live a little better than just check to check. Just like someone looking for a car; you know what you can afford and you know what you'd like to drive. You don't go looking for a brand new car when you can only afford a used car.  Just like a job seeker cannot rightfully think they're gonna make 6-figures when all they've ever done was been a Front Desk worker. Get back in your lane and stay there until you can afford to change lanes people...cheese and rice!