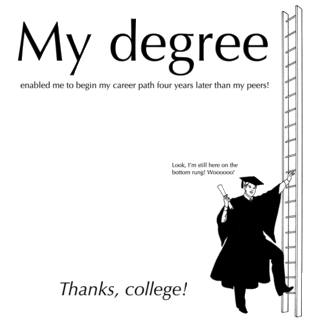 Education...is the bane of my existence...at times.

Don't get me wrong, I LOVE learning and applying where necessary but some of the

bullshat

you must put up with in order to attain a higher degree of knowledge than necessary to function in this world sometimes gets my goat.
As far as education goes though, what bothers me the most are the people who assign certain levels of importance to people based on WHAT kind of education they have attained. I don't look at someone who has an Associates degree and someone who has a Masters degree and immediately assign more importance to the person with the Masters. I don't look at someone who graduated from a technical school and someone who graduated from an ivy league school and assume the person from the ivy league is the more desirable company to keep. I really don't understand people who judge others by how much their education cost or what they chose to be educated in. If the person is doing what they prefer in a world where it is so easy to do something you hate simply to pay your bills, I give you kudos for THAT....
So it baffles my mind when someone asks you where you attended school and you say Savannah College of Art and Design and you get a turned up nose like Art and Design aren't real things to be educated on. Click on this...this is someone who is not a "suit" but he works JUST as hard as a stockbroker who achieved an Economic degree from M.I.T....in my opinion, he just might work harder. And what does he do for a living? What is he? An artist.
I've been privy to certain conversations by women...giggling and

keekeeing

about some guy they met and how he has a degree in Economics, Political Science, and/or he is attending Law School. Kudos to those men; they've accomplished

something

a lot of people can't, simply due to circumstances. But one woman will mention this nice guy she met and how he is perfect...except he's only a teacher...writer...artist...photographer. My question is...when did these professions or avenues of study become lessened to insignificance? Why are they not as openly appreciated as someone who has a highly acknowledged degree that SCREAMS pay attention to me? 
If we didn't have photographers, who would capture the true essence of pride tomorrow (01/20/09) as the United States inducts the first Black president? No one...
If we didn't have artists, who would create life in paintings, graphics, and sculptures? No one...
If we didn't have writers, who would continue to expand others minds with the words that are carefully put together to offer you a masterpiece that excites your senses? No one...
So the next time you hear someone or you even fall into the category of brushing off someone because they didn't attend some school known for what you deem degrees to be proud of, think about where you get all your entertainment from...your relaxation...your fond memories. It is the people with the "little insignificant" degrees and professions that make that all possible...