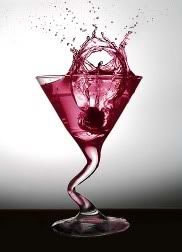 If a guy wants to drink an apple martini, does he automatically become gay in your eyes? What about a margarita? Daiquiri? Any mixed drink that is considered "fruity"?

A margarita has tequila in it...nothing girly about tequila last I checked. As a matter of fact, it has been known to make some women act QUITE mannish.
A martini is ACTUALLY straight vodka and an olive. Flavored martini's are just straight vodka with a liqueur in it to give you the flavor you want...still girly?
Mixed drinks...he can't like pina coloda's, sex on the beaches, and strawberry daiquiri's? Some people like mixed drinks and I see it no different than being at home, throwing some fruit and liquor in the blender and gettin it crackin. I can personally attest to my guy friends drinking Pink Panties at my house...those infamous Pink Panty Parties were THE BEST! All that damn drink has in it is pink lemonade and vodka (or Barton's gin if you were a bunch of college students and friends who were trying to stretch their dollar LOL)
Or is it because of the kind of glass these drinks come in? The thing about drink glasses are, they are in specific kinds of glasses because of the type of drink and the ingredients that are in them. I'm sure if bartenders could use mugs or beer glasses for everything they would.
But really? This makes a man gay all of a sudden? Liquor is liquor, glass or not.  So do I become a lesbo because the drinks I like come in sifters and small tumblers? No, but apparently some women have inserted this double standard on men. Not my words, just the daily discussion on crazy azz V103 this morning LOL