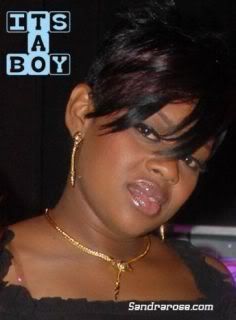 ...is that the show is NOT focused on Keyshia but more so on Neffie (Nefeteria, her sister).
There are times when I'm watching the show and I forget that this is a reality show ABOUT KEYSHIA because for the 21-24 minutes it is on, a good 12-20 minutes of the damn show is about Neffie...and 'nem. Who is "'nem"? Oh you know, Keyshia and Neffie, EX-crackhead (which I STILL believe she is on SOMETHING because of that j-cat behavior) momma, Frankie.
I want to wholeheartedly believe that Keyshia REALLY feels and thinks this show is about her but something tells me that she gave this reality show idea a thumbs up to KEEP her momma off the streets and that shat...as well as, keep her sister from heading down the same road because even though Neffie wasn't VISIBLY on no drugs, you can't tell me that ONLY likka contributes to her deterioration as a human being.
Far be it from me to appear high and mighty...because I am not but I don't care where I am or what I am doing you will NEVA hear me on TV talking about how my sister made it possible for the entire family to go out of town to see one her concerts (read: Keyshia footed the bill) and I'm dancing with no panties on...doing the splits. Yes, this heffa Neffie, who has 4 children (is it 3 or 4? don't really care...), was on TELEVISION doing the splits...with no panties. I was even more confused and wanting to donkey kick her in the head when I noticed that she had a bra on...you took out the time to put on a bra with a halter dress but you didn't figure you needed panties too? Oh ok...you're trash and you have 3 daughters that will think it's fine and dandy to be trash like you.
But your mom...Frankie...well, I can't be all that mad when THAT'S your mother...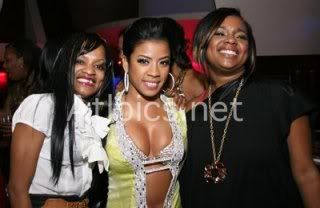 Frankie is on the left...lemme find a better picture of that Godforsaken little troll of a woman...one second...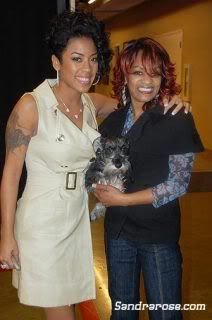 okay, that's a little better...naw not really but you get the point...I'd cry in my bed at night if these were the people I was stuck with calling them my family...just horrible more often then not.
Just look at Keylolo...she outshines her family by a million and five watts...she looks out of place. Even when she was a Town Ripper...she looked out of place standing next to them. Ok, maybe she wasn't a hood bunny but that was certainly how she portrayed herself when she first came out...who wears beaters to damn near EVERY photoshoot? I'm MORE than elated she grew out of that phase because I most certainly was gearing up to strangle her with one of them damn beaters if she did another shoot with them on like she ain't got no better clothes to wear than beaters and jeans...
and those aren't even her worst photos of her beginning celebrity...I still loved her little ghetto ass back then BUT...look at her letting her beauty shine through NOW...boy do I love when people go from ashy to classy!
Yes, she's come a mighty LONG way since this:
I feel some kind of obligation, being from Oakland to give HER a chance but her family? I pass on those crazy nuts...so I can only hope that next season, The Way It Is, is about Keyshia. I mean, Keyshia...you give us a reality show but you don't tell us nothing about Jeezy...oh you thought we forgot about yall?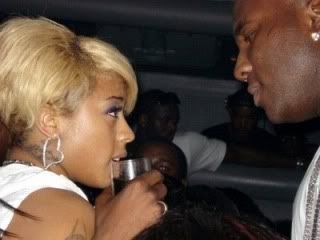 Girl stop! You tried to throw us off the track by that little 2 minute segment of Polow flirting with you and while I would PREFER you get it IN to the utmost with that fine specimen of meat (looka here!)
...it does not negate the fact that you proposed to Jeezy and he aint nowhere up and through your reality show. I want answers...and now. Can we take a couple shows away from Neffie and her deranged, lunatic boyfriend to get in THAT part of your life? The public wants to know The Way It Is on Jeezy. Okay, maybe I just want to know but you have a obligation to tell us...you do have a reality show.
So...here is my bargaining...if you give us the juice on you and Jeezy, I won't make a ruckus about you smashing off with a glass of mimosa in your hand...yeah, I seen you witcho crazy ass DRINKING AND DRIVING. Don't nobody drink orange juice out a flute, negro. Well nobody Black...and of your caliber unless you just trying to act brand new.
But back to the serious side of things...The Way It Is...if we are blessed (said loosely, said loosely while shaking my head) with another season, I want MORE Keylolo, less Neffie and nem.
The End.