Can you see what that is sitting on top of my computer? I was a little confused...until I got closer and saw EXACTLY what the hell it was....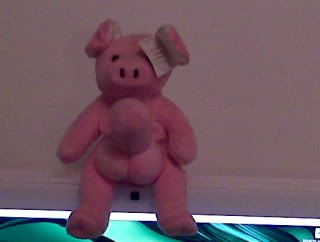 Imagine coming home to that...I haven't laughed that loud, by myself, in a VERY long time. Ok, I'm lying, I was guffawing loudly at the season finale of Always Sunny in Philadelphia (I'm sorry but watching Danny Devito talking about "stealing the boy's hole" and he was supposed to be saying "soul" is classically funny...and Charlie wanting to stomp Dee's face inside out...sorry, you have to see it).

But what's even FUNNIER is the little note written on this perverted beanie babies tag. It says, verbatim:

"Pepe"
I'm Pepe the pig
I couldn't be cleaner
I only get dirty
When it comes to
my wiener!

Bwhahahahhahahahahhahahaha
Feel free to laugh with me ;)