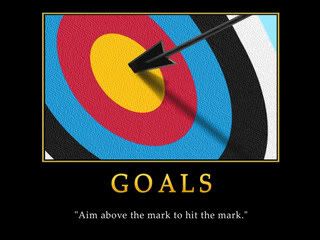 That isn't my goal because I make WAYYYYY more money than that hahhahahahhahahha

THAT...that was one of my old roommates goals...along with these (remembering what I read):
GOALS FOR 2006
2. Live in at least a 2 bedroom/1 bath in Miami near the club scene and beach
3. Work at a high-end boutique (Louis Vuitton, Coach, etc.)
Now, I stumbled on these when I was packing her trashy azz room up because she had bounced and went to Mexico on a cruise and left NO RENT MONEY. That's an entirely different story I will share at another time but I had enough of her foolishness so I stared at this list of hers and fought the urge to laugh....not because her goals were just ridiculous on so many levels....
I laughed because a few months prior to me seeing this, we were talking about LIFE goals and I told her that I wanted to be worth my first million by the time I was 30 (I'll be 30 at the end of 2009)....and she laughed in my face and said:
"Be realistic. That's impossible."
I wanted to backhand her in the face. How dare you laugh at me and tell me it's impossible when I had 4 years to continue working towards it? AND....how dare you laugh at ANYONE when your goals in life don't even coincide with a rational thought process??? First of all, her goals would need to be accomplished within a few months because the year was almost over and she was nowhere near Miami. Maybe she was going to take the rent money she'd stiffed me for ($500) and do it moving to Miami, who knows. BUT...you CANNOT live ANYWHERE near South Beach making $17,000 a year. Full-time, that's about $8 and some change an hr....and that's before taxes are deducted. After taxes, she would have been looking at about $6 and a quarter. Where you gone live in MIAMI, NEAR THE BEACH AND CLUB SCENE, making $1,000 a month (give or take a few dollars)??? Even if she had a roommate, she'd be living by the skin of her teeth.
If she didn't have that salary listed, her goals would have been more reasonable and very much attainable if she worked hard enough to achieve them.
My best friend told someone that one day he would have this certain car that's over $100k....and the people he was talking to, laughed in his face too.
What I've gathered is that people who would laugh in your face for the life goals you want to achieve (that are VERY possible with a little hard work), they laugh because they couldn't fathom achieving those things themself so it still appears impossible for someone else to do it. By the way, my old roommate was the laziest person I know in life. She mooched off of anyone unaware of the fact that she was a no good leech azz. Her goals were based on things her friends were CURRENTLY doing. They didn't make any sense because she was already making $17,000 in the beginning of the year and had gotten a raise to where she was making about $20,000. So why would you make a goal to make less WHILE living in a city that requires you to make more?
If she had a brain worthy of mentioning, her last two goals would have been something to give her kudos for. Since she didn't and probably still doesn't to this day (have any good sense), I chuckled to myself as I took her list of goals and packed them away with the rest of her disgusting belongings. Chuckling because she had the nerve to laugh at me. Idiot.
Anyway, for all of you who read this and are busy trying to get out your dreams, may you all have good fortune. No matter how big or small your dreams/goals are. If you are actively working to pursue them, you will, whether it is in 2009, sooner, or later!