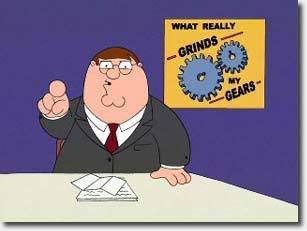 ....PEOPLE WHO READ TOO MUCH INTO

EVERYTHING
. 
That REALLY gets my goat more often than not because you can never have a quick conversation with them. It is damn near impossible. NOW...I am a VERY detail oriented person so from time to time I might over analyze something someone is asking me and I become guilty of this. BUT...in my own defense, I DO NOT do this ALL the time. More often than not, you can get a simple "Yes" or "No" out of me, UNLESS I feel you have a hidden agenda to the question being asked and/or I know you're trying to trick me...then I will antagonize you with my questioning back. LOL

Anyway, we're getting off what irritates me....there are some people I will sit and devise a specific question for SO I will get a SPECIFIC answer. It works and I feel victorious over getting the simple kind of answer I was looking for.  Then there are times I forget who I was talking to and it turns into a day long exchange of emails that I end up shaking my head at like, "All I asked was aint that chedda betta *sigh* I didn't think I was going to have to listen to why Wisconsin cheddar is not exactly cheddar and white cheddar, although it tastes like yellow cheddar is from a hybrid family of cheeses that are only manufactured in the Swiss Alps"...I was simply excited about my cheese on my sandwich and you killed that joy getting technical about what kind of chedda is betta.
But Usher's "Seduction" just came on and I'm having flashbacks about what TURNS my gears so I'll be back..
.