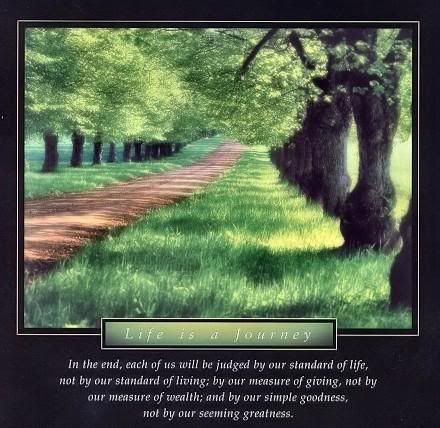 Last night as I was walking home from work, I thought about my life and where it is headed. It isn't a particularly bad place to go towards either. I walked through the downtown city streets of Atlanta thinking about life and wondering where I would be a year from now.

A few weeks ago, I was driving to work and to the right of me was a lane filled with cars all the way from my house up to the interstate...you know, morning traffic. The lane I was in? Smooth sailing! No cars to speak of so I'm sailing along and I see a car from oncoming traffic prepare to turn out of the left lane. The driver sees me and stops. As I approach the intersection, the driver throws all caution to the wind and proceeds to turn left, FULLY KNOWING I am coming AND that there is nowhere for them to turn because there are cars blocking the street they need to make a left on. As I slam on the brakes and realize I am about to be in a pretty bad car accident because of this moron, I saw bits and pieces of things I should have said to the people I love the most. But they flashed so fast and the accident happened so quickly, I didn't get a chance to see who I was supposed to be saying what to. All day I had the jitters and the following morning I had THE worst pain ever in my back.
Back to yesterday and that walk home...I arrive home and have this insatiable urge for a burrito. Since Chipotle is directly across the street, I change my clothes into something warmer and walk across the street to order a fajita steak burrito. I've been waiting all day for this and I'm happier than a pig in mud. I pay for my food and proceed to go walk home to enjoy my delicious burrito on my couch as I finish catching up on True Blood.
I believe in using the crosswalk as well as waiting for the lights that permit you to walk. So I'm standing on the corner at the red light waiting on it to change and looking at Atlanta...some days I hate it because it just isn't California and then nights like this, when the city is alive with movement, I bask in Atlanta's hustle and bustle. The light turns green and I step off the curb. I see a truck on the opposite side of the street sitting and then for no apparent reason other than him just realizing that the light was green, he takes off and comes straight towards me. I yell out as I realize...I have nowhere to go. Behind me is an Infiniti that has stopped in horror because she sees this man about to hit me with his truck and in front of me is the jackass on his phone not paying attention to me in the crosswalk. 
I froze with fear and also that stupid flash of life hit me at the same time. Except this time, I saw the people's faces clearly so that I knew, right then, what I was supposed to be saying to them. Now is not the time when my reflexes are supposed to be working but my body was literally terrified because I felt INSTANTLY like it was all coming to an end. And that is when the Infiniti blared her horn...the guy, still on the phone, swerves, almost hitting the lady in the Infiniti.  I stood still in the street for a few seconds because my legs felt like jelly and I thought that if I took a step, I would surely just fall over and then...someone would run my ass over. As the cold wind slapped me in the face, I realized traffic was waiting for me to move so I willed my lead filled appendages to go as I walked back to my apartment.
It was then that I realized...no matter how many close calls I have had with Senor Muerte, I MUST be being kept alive because I have yet to accomplish something that is directly connected to my purpose for living. Unfortunately, I know that was not the last close call I'll be receiving. Since I was a kid, I've had a few experiences that should have resulted in a little casket or some ashes being spread in Yosemite somewhere. But alas, I know who I need to keep close to me, who is dead weight, and that my purpose is VERY important if the need for me to be alive is this strong...this might be too much metaphysical mumbo jumbo to digest with your coffee but it was on my mind.