I was watching True Blood the other day and the main character is a perky blond who can hear other people's thoughts AND dates a vampire. As if that isn't enough, the show starts out with her being a virgin. Now...the assumption is that she isn't that smart...well that's the assumption of the town's people. But why isn't she that smart? Because her intelligence level is somewhere lost in the bayou? Because she's a blond and no blonde's are smart (not my stereotype, just being sarcastic)?
Nope.
Supposedly she's just young, dumb, and NAIVE because she's a virgin. The first time I heard another character reference her naivety and attribute it to her never being with a man I cringed...I'll tell you why in a minute.
After cringing, my mind immediately dug in the recesses and pulled out Wedding Crashers. What in the world does Wedding Crashers have to do with True Blood? Well, one of the characters in that was a "virgin" too. She was viewed as naive and treated kind of like a child too...only for it to be revealed that she actually was smarter than the guy who mistook her for some dimwit virgin. Again...her sexual experiences being tied to her level of intelligence.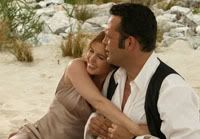 I thought about the Princess Bride too...she was viewed as helpless and needing to be saved by Westley. Now, I understand that the movie needed a plot but as the story unfolds, you get to see she isn't some helpless virgin princess that can't think on her own.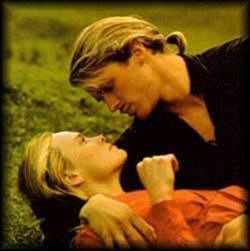 So back to my irritation at True Blood...it stems more from how society views virgins. I have seen it time and time again...virgins are looked at as very naive about LIFE. Why? There is only one aspect that naivety should be applied to and that is the actual act of intercourse. But then again with all the things a "virgin" can do OTHER THAN actually have a male shaft penetrate her love box, can we really say someone is naive because they are a virgin? No.
Does this cancel out anything they have to say about life, love, and relationships? Hell and no. Sookie (the main character on True Blood) has the most sense of anyone on the damn show and she's the virgin. As far as relationships go, she was pretty smart about those too. Think about yourself (if you've had sex)...you might be a pro with getting it IN but how many BAD decisions do you make in life when it comes to love, SEX and relationships? Now compare those with a mature adult virgin. I guarantee you your stats versus theirs puts YOU to shame, not them. Personally, I think people who press pause on getting their lights banged out are to be commended. For one, you have one less worry in the world...life without sex once you've had it is tantamount to holding a steak in front of a lion and he hasn't eaten in a week...he's either gonna go crazy TRYING to get that meat OR get the strength of a thousand lions, kill you for playing with his meat, and then go crazy trying to find some more.
Ok, a little dramatic but that's how it feels when you go without that delectable delight at times. So if someone chooses to not graze those pastures, they can't miss what they never had, therefore in my mind, they are better off.
But back to people associating the state of being naive with virgins...I want people to stop. Being a virgin does not and should not translate to "She/He is stupid". He? Yes...you seen 40-Year-Old Virgin. His friends treated him like he was a damn idiot (ok, he was a little yellow bus like) and he really wasn't all that bad. He led a modest and content life.
You notice what happens to people once they start having sex? They start thinking about HOW the opposite sex views them so they will change how they dress, act, walk, talk, hell, they'll change just about anything to get that GOODNESS. But the chances of an older virgin changing their life to retain some sex...unlikely. They are who they are and whoever is fortunate enough to get that marinated meat has already decided to love them as they are...or at least pretend they have long enough to get the sticky icky.
So naive and virgin should only be applied to maybe younger folks and it should only apply when speaking of sexually penetrating experiences, NOT their overall intelligence...but at the same time, virgins today are FAR MORE experienced than I was when I was a virgin. I didn't watch no porn or look at dirty magazines...hell, I never really let anyone touch on Minx until I decided I was gonna give up my rights to Good Girl status.